Inclusion Nudges for Leaders
Action Guide with 30 examples
WHAT 30 practical ways to enhance your leadership by leveraging diverse human potential and de-biasing processes, cultures, and behaviours to be inclusive as the norm. This book is available in print format and as an e:book.
WHO For you who are leaders, formal and informal, managers, project leads, entrepreneurs, and decision-makers in organisations of all sectors and in local and global communities of all kinds (online and in person).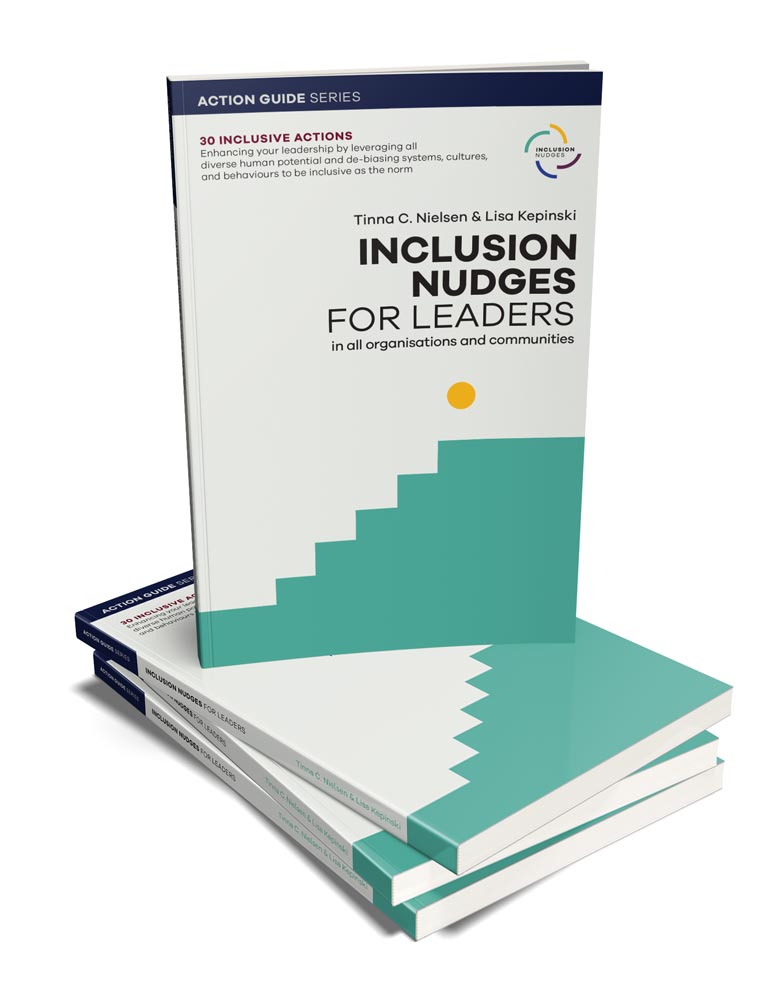 Get your Action Guide fast
Order your book from the Amazon marketplace closest to you.
The text from the back of the book: Inclusion Nudges for leaders
Stand out as a leader by applying Inclusion Nudges
and making inclusion the norm –
everywhere, for everyone
Good leadership is leading inclusively. Yet, how to achieve this can be unclear to many. Good intentions, declarations, and  knowledge alone are not enough. We need easy to do, practical actions that steers our thinking and behaviour towards inclusive ways of engaging people, seeking out ideas, collaborating, innovating, and objective decision making. Inclusive leaders have the power to transform potential, challenges, and people to create great organisations and communities, towards a sustainable world.
In this action guide with Inclusion Nudges for leaders, the authors (Lisa Kepinski & Tinna C. Nielsen) offer you 30 actions that all leaders can immediately do. These are designed based on insights from behavioural and social sciences, together with the authors'
many years of experience in working with leaders around the world. These actions have been specifically selected for leaders from the 100 examples in The Inclusion Nudges Guidebook (2020). These proven to work examples have been shared by leaders around
the world. All actions help to lessen the influence of unconscious bias and promote inclusive behaviour, culture, and systems as the default and norm. By putting these actions into your daily work, you make inclusive leadership happen nudge by nudge! 
Authors
Tinna C. Nielsen & Lisa Kepinski
Other Inclusion Nudges resources
Engage and enable other people in making the needed change for sustainable and inclusive organizations.