The Inclusion Nudges Guidebook
100 Inclusion Nudges for Change Makers
WHAT A how-to guide with 100 behavioural designs scripted out step by step making it easy for you to re-design and de-bias cultures, processes, systems, perceptions, and behaviours to be inclusive as the norm everywhere, for everyone. A guide on how to leverage the diverse human potential to co-create inclusive organisations and communities.
WHO For you who are leading change. You work on organisational, community, or societal development and on diversity, equity, inclusion, social impact, human resources, and the UN Global Goals.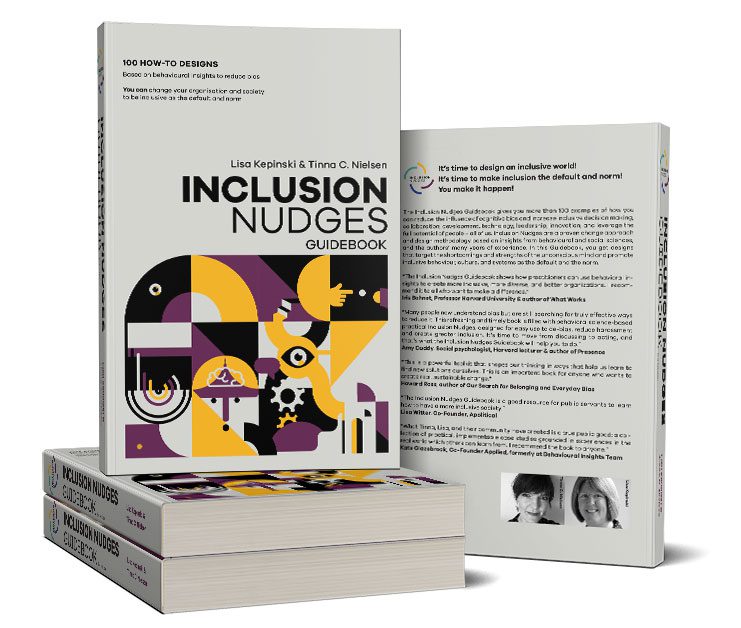 Get your guidebook fast 
Order your guidebook from the Amazon marketplace closest to you. 
The text from the back of the book: The Inclusion Nudges Guidebook
The Inclusion Nudges Guidebook gives you more than 100 examples of how you can reduce the influence of cognitive bias and increase inclusive decision making, collaboration, development, technology, leadership, innovation, and leverage the full potential of people — all of us.
Inclusion Nudges are a proven change approach and design methodology based on insights from behavioural and social sciences, and the authors' many years of experience. In this Guidebook, you get designs that target the shortcomings and strengths of the unconscious mind and promote inclusive behaviour, culture, and systems as the default and the norm.
Authors
Tinna C. Nielsen & Lisa Kepinski
Other Inclusion Nudges resources
Engage and enable other people in making the needed change for sustainable and inclusive organizations.