Who's nudging to make inclusion the norm
These are just some of the people who are already applying Inclusion Nudges in their organizations and communities. There are many more Change Makers, like you, from around the world doing this.
You can apply these behavioral designs as well.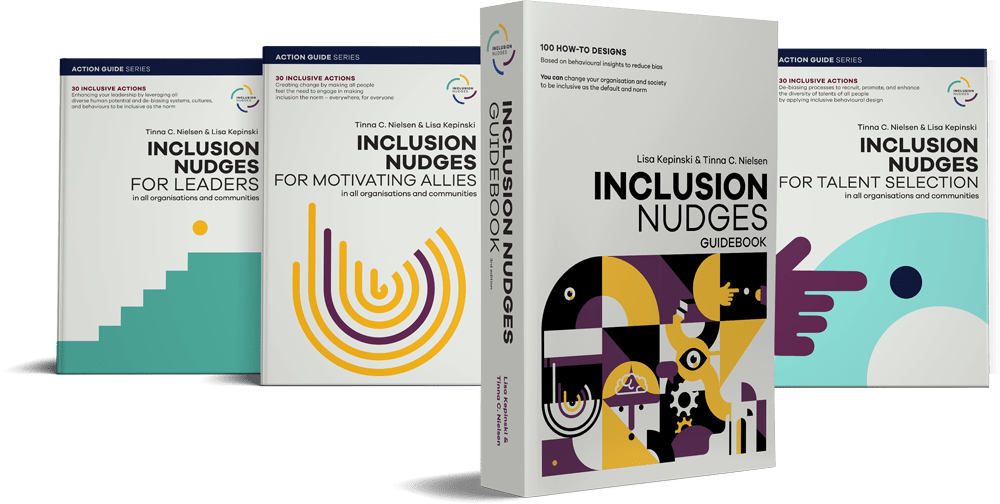 This is a brilliant book full of tons of little things that can be done in all situations to nudge people's thinking and actions to be inclusive. It's a great book.
Sarah Bakewell
Diversity & Inclusion Manager, AWE
To limit bias damage, I asked around for practical tools, but felt many are stuck in the 'men are evil' discussion. However, I was so pleased to finally get a hold of the Inclusion Nudges Guidebook. Thanks a million!
Emma Hammarlund
Geo-biologist, lecturer & researcher at Translational Cancer Research, Lund University, Sweden & The Nordic Center for Earth Evolution, Southern Denmark
An eye-opener for the importance & concrete benefits of de-biasing & inclusion.
Katja Pehrman
Senior Adviser for UN Women, The United Nations
The Inclusion Nudges Guidebook is one of the most useful references in my library. I have incorporated a number of Inclusion Nudges. A great practical way of getting to action, rather than just talk.
Guy Martin
Global HR Program Director, ASSA ABLOY Group
Reading the Inclusion Nudges Guidebook sparks my creativity. Sometimes, I find a nudge I can use exactly as written & other times, I get inspired to apply a twist or create a new one.
Julie O'Mara
Co-author of the Global Diversity & Inclusion Benchmarks
This refreshing & timely book is filled with behavioural science-based practical examples, designed for easy use by people to de-bias, reduce harassment & create greater inclusion.
Amy Cuddy, PhD
Social psychology, speaker, Harvard University lecturer
Inclusion Nudges enable leaders to move from general awareness to catalyst agents for inclusion & diversity. The ideas are simple & immediately actionable.
Kaye DeLange
Vice President for Salt Business Operations and Supply Chain Leader, Cargill
This is a powerful toolkit that shapes our thinking in ways that help us learn to find new solutions ourselves. This is an important book for anyone who wants to create real, sustainable change.
Howard Ross
Founder Cook Ross & author of Our Search for Belonging
The Inclusion Nudges Guidebook shows how practitioners can use behavioural insights to create more inclusive, more diverse, & better organisations. I recommend it.
Iris Bohnet
Professor at Kennedy School of Government Harvard University & author of What Works
I find this to be a great resource to nudge individuals towards inclusion. By using examples in the Inclusion Nudges Guidebook, the road to true inclusion becomes less bumpy.
Rashmi Vikram
Global Diversity & Inclusion, Microsoft India, & former Country Head at Community Business
This is a wonderful resource full of practical advice. Above all its greatest value is in demonstrating that bias can be addressed.
Binna Kandola
Partner Pearn Kandola, professor & author of Racism at Work
I recommend the Inclusion Nudges Guidebook to anyone passionate about inclusivity. It is a collection of practical, implementable case studies grounded in real world experiences.
Kate Glazebrook
Co-founder Applied & formerly with the UK Behavioural Insights Team
The Inclusion Nudge Guidebook is a good resource for public servants interested in learning more about how to have a more inclusive society.
Lisa Witter
Executive Chairperson and Co-founder Apolitical
I drew inspiration from your passion for behavioural insights and stand amazed at the great work that Lisa and Tinna started! Truly trailblazing.
Kim Kariuki
Formerly at The Busara Center for Behavioral Economics
The Inclusion Nudges work is needed for designing organisations and communities to be more inclusive from the get-go rather than as an overlay or afterthought.
Minjon Tholen
Chief Inclusion & Strategic Innovation Officer, Amnesty International USA
Changed my view on how to approach inclusion & gender equity.
Claire Bonenfant
Country Director, SThree
The Inclusion Nudges Guidebook has 100+ concrete examples that have been proven to lead people willingly towards more inclusive behaviour. These really do work.
Ursula Wynhoven
Leader advancing social sustainability & gender equality initiatives, The United Nations
AART Architects
ARM
ASSA ABLOY
AXA
Aarhus University
Aarhus University Hospital
Aberdeen Standard Investments
Adidas
Amani Institute
Amgen
Amnesty International
Apple
Arla Foods
BASF
Bain
BBVA Compass
Barclays
Barilla
Behavioural Insights Team UK
Beiersdorf
Biogen
Bloomberg
Boston Consulting Group
Brazilian Government
Brown Forman
Business Development Center in Jordan
CABI
CRANET
Cargill
Charité University Medicine Berlin
Charta der Vielfalt
Charter Communications
Citrix
Coca Cola
Copenhagen Business School
dbio
DSM
Danish Association of Museums
Danish Dentist Association
Danish Film Institute
Danish Heart Foundation
Danone
Delivery Hero
Deloitte
Deutsche Telekom
Discovery Communications
Dong Energy
DuPont
EA
EY
EY Entrepreneur of the Year
Emerson
Ennova
European Union Agency for Fundamental Rights
Fondazione Cariparo
Gartner
Google
Government of Brazil – Inova Lab
Hele Landet – Social Architects
Hot Spot Movement
HSBC
IBM
IMD University
Intel
International Red Cross & Red Crescent
Itron
KVINFO
Kakuma Refugee Camp
Kantar / WPP
King
Kyndryl
LEGO
LIVA Rehab
Lind Invest Group
Livongo
Ludwig Boltzmann Gesellschaft
Lundbeck Foundation
Maersk
Mahle
McKinsey
Mediobanca
Metro Group
Microsoft
Molgroup
Municipalities (in Denmark)
NCQA
Netflix
Nike
Norton Rose Fulbright
Novartis
Nudge Italia
OECD
OK Fonden
OSRAM
Oxfam
P&G
PepsiCo
Petra
Pernod Ricard
Political Parties (in Denmark)
Politicians (across parties)
Principia
Rio Tinto
Roche
SWIFT
Sandoz
Sanofi
Schoenherr Architects
Shaw Floorings
Social Gastronomy Movement
Spotify
Stryker
Swiss Films
TE Connectivity
The Conference Board
The Danish Business Authority
The Danish National Association of Local Authorities (KL)
The Danish Royal Theatre
The Gates Foundation
The National Growth Foundation (Vækstfonden)
The Social Gastronomy Movement
The Velux Foundation
The World Bank
Turner Communications
UN AIDS
UN International Atomic Energy Agency
UN Development Programme
UN Global Compact
UN High Commissioner for Refugees
UN Human Rights Council
UN Industrial Development Organization
UN International Criminal Tribunal
UN International Labour Organization
UN International Organization for Migration
UN Office on Drugs and Crime
UN Office for Project Services
UN Executive Office of the Secretary-General
UN World Health Organization
UN Women
UN World Food Programme
University of Copenhagen
University of Southern Denmark
University of St. Gallen
Wooga
World Economic Forum
Zalando
Zebra Technologies