Inclusion Nudges for Talent Selection
Action Guide with 30 examples
WHAT 30 practical ways how you can re-design and de-bias the processes to recruit and promote people, compose great teams, and enhance the diversity of talents of all people. By applying these Inclusion Nudges you make inclusion the norm in all talent selection processes.
WHO For you who are involved in selecting people for jobs and composing diverse teams or in any other way involved in talent selection processes in your project, change initiative, organisation or community.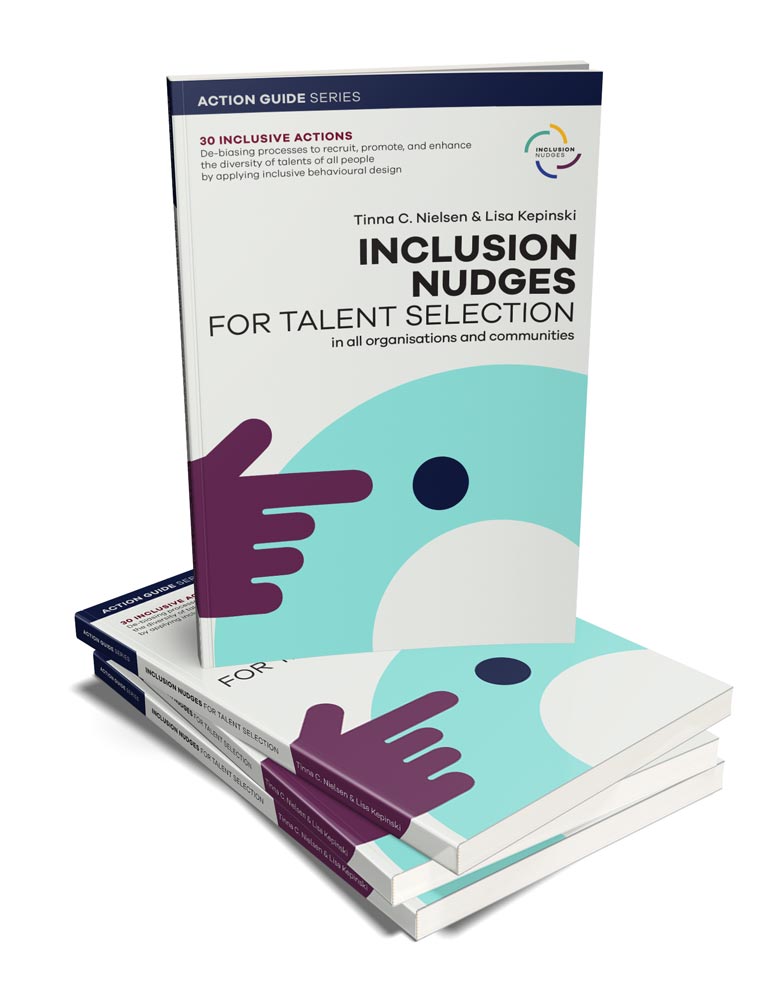 Get your Action Guide fast
Order your book from the Amazon marketplace closest to you.
The text from the back of the book:
Inclusion Nudges for Talent Selection
Stand out by applying Inclusion Nudges
in talent selections and making inclusion the norm –
everywhere, for everyone
Great talent selection is critical for success in teams, projects, change, organisations, and communities. Accessing and leveraging the full diversity of talents is a must. Making this happen, will require that we mitigate the influence of unconscious bias and promote inclusive behaviour, culture, and systems as the default and norm. We need easyto-do, practical actions that steer our thinking and behaviour towards inclusive ways of evaluating merit, talent, and potential as well as making inclusive decisions.
This Action Guide makes it easy for you to do this. The diversity, equity, and inclusion experts and authors, Lisa Kepinski & Tinna C. Nielsen, offer you 30 actions that all people involved in talent selection processes can immediately do. These are designed based on insights from behavioural and social sciences, together with the authors' many years of experience. These 30 actions are from The Inclusion Nudges Guidebook (2020) that has over 100 examples. These proven-to-work actions have been shared by professionals involved in talent selection around the world.
You have the power to make this happen and create great organisations and communities, towards a sustainable world.
Authors
Tinna C. Nielsen & Lisa Kepinski
Other Inclusion Nudges resources
Engage and enable other people in making the needed change for sustainable and inclusive organizations.